Tired of yelling at your PC?
Let us help you!
PC Accelerate Pro is a powerful application that makes cleaning up your computer a simple process. PC Accelerate Pro scans your computer and lets you know how many errors there are. PC Accelerate Pro can find registry errors, improve optimization, fix browser extensions, and even free up disk space by eliminating unused files.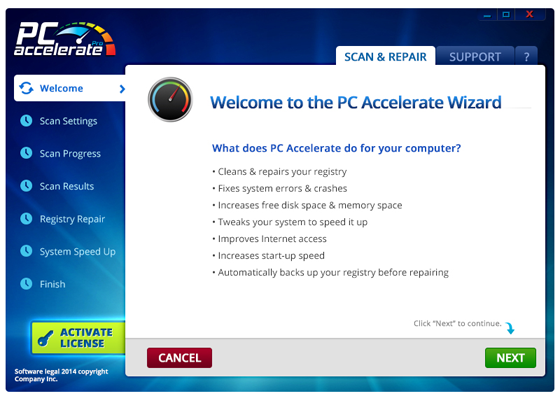 Feature Rich
Make cleaning up your computer a simple process with PC Accelerate Pro. The multi-featured application has several core components to increase your computer's performance.
PC Accelerate Pro is a registry cleaner. That means it can not only get rid of old files, but it can also repair your registry.
By using PC Accelerate Pro you will automatically find a huge decrease in system errors and system crashes.
PC Accelerate Pro cleans up your computer's hard drive. That means more space for business, or for play!
Slow starting computers and unresponsive applications are a drag. PC Accelerate Pro eliminates these common problems simply by fixing common and more complicated errors.
Old internet files can be hard to get rid of, but PC Accelerate Pro is great at tracking down these files and getting rid of them for good. You'll find that you will have a faster and more reliable browsing experience after using PC Accelerate Pro.
PC Accelerate Pro won't give you any headaches! PC Accelerate Pro automatically backups files that might are essential to a solid computing experience.
Understand, Learn, Take Action
Who knew you had so many problems waiting to be fixed? PC Accelerate Pro will find them all, and provide easily understood information so that you can take action and fix issues!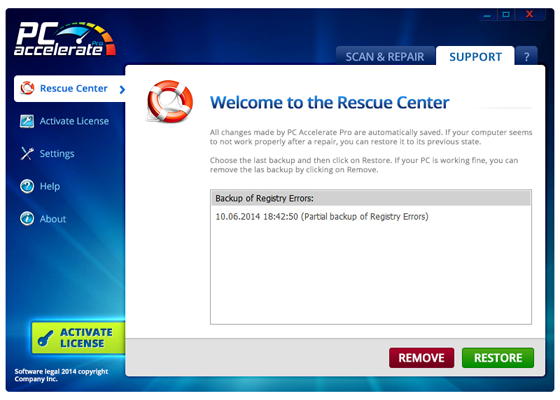 Make Security a Priority
Your security is very important, and so is your valuable information. With PC Accelerate Pro, you never have to worry about losing anything.
Accelerate!
What did PC Accelerate Pro did to increase performance? With PC Accelerate Pro's summary, you will easily understand your computer's status after a scan.

"Slow, unresponsive, and clogged- this was my computer. Then after I scanned my computer with PC Accelerate Pro I had the pleasure of deleting and fixing everything that was causing issues."
- Mary S.